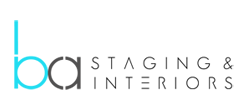 50 Home Staging Tips by the Book
November 19, 2021 10:00 AM Eastern Time (US and Canada)
Presented By: Birgit Anich
REGISTER NOW
Course Location
BA Staging & Interiors
480 Barnum Ave, Dock 1
Bridgeport, CT 06608
Course Summary
Most buyers will shop online first, so proper presentation is key. This course teaches property preparation before staging, home staging tips room by room, and the art of sharing success stories and results. Participants will become a subject matter expert so they can confidently communicate the top reasons any home seller must prepare their home in order to sell for top dollar.
Learning Objectives
By the end of this course, participants will be able to:
• Explain the best practices and fundamental principles to staging properties.
• Explain the value of professional home staging to sellers.
• Apply basic home staging principles for best photography and showings.
• Apply key marketing techniques to position their listings above the competition.
About The Instructor
Birgit Anich is a multiple national awards winning home stager, who has also been named as a Top 75 Influencer in the Real Estate Staging Industry as well as a Top 200 Influencer in the Design Industry. Birgit has been focused on styling and merchandising real estate properties since 2009 when she founded BA Staging & Interiors.
With masters in business and marketing and a background in interior design, Birgit brings unique skills and a keen sense for beautiful designs to her clients. Creatively and knowledgeably she transforms spaces into extraordinary selling features. She is known for her exceptional and on trend staging designs.

She has been certified by HSR and as an also SAR Certified Advanced Staging Professional, Birgit has been trained by HGTV Celebrity Stager Matthew Finlason ("The Stagers") on the most advanced staging techniques incorporating Lifestyle Merchandising and Target Staging.

Birgit has committed herself to the code of ethics, as well as continuing education pertaining to the staging industry.
She also serves on the Board of Advisors for the Home Staging and Redesign Alliance (HSRA) and is teaching continuing education classes for real estate professionals for 9+ years.

Her work has been featured on HGTV, NBC, FOX News, CBS, ABC, New York Times, and several other print media.

Birgit's other passion is photography. Her artistic photography is available for sale.
Continuing Education Credits
Real Estate Continuing Education (Connecticut)
3.00 Continuing Education Credit Hours
Price: $35.00

This course has been approved by the Connecticut Real Estate Commission for 3 continuing education credit hours. Course Number 15705. School Code 0290.
Contact Us
REGISTER NOW